Synod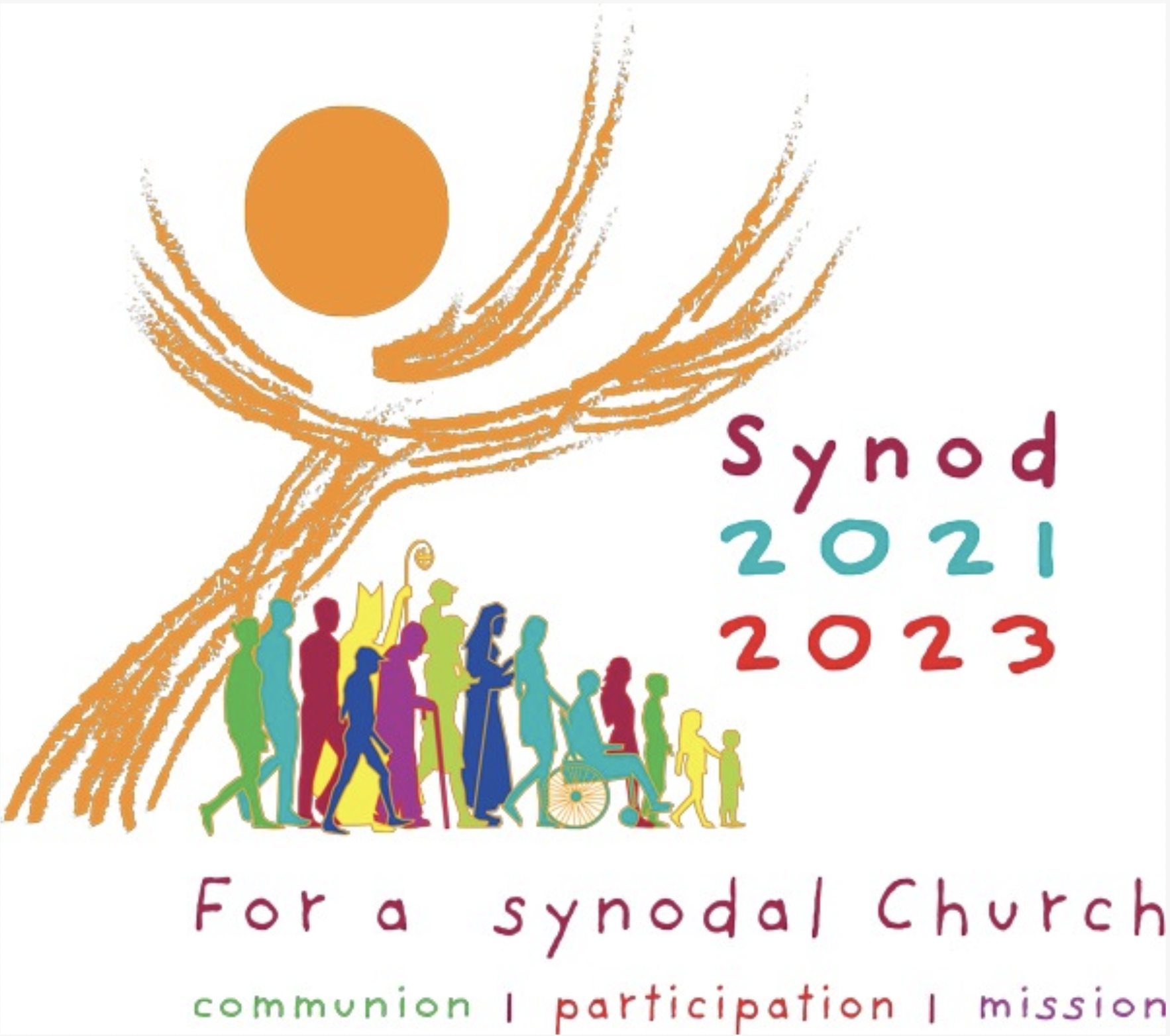 The Synod at Saint John the Evangelist
Check out the information below to participate in the Synod on Synodality at Saint John the Evangliest Parish. You can find general information on the Synod, the schedule for our in-person Synod events, and a survey to fill out online to participate in the Synod from a distance. We look forward to your participation in the Synod at our Parish!
What is the Synod on Synodality?
         Pope Francis wants to hear from the whole Church about what is happening in local parishes.  He, along with Bishop Edgar da Cunha, would like to know what individuals think we should be doing to help make our church better.  The way he has proposed doing this is a synoldal process. The word synod (pronounced sih-nuhd), means "journeying together". It involves listening to the Holy Spirit and to each other to discern the path we are called to walk together.
         The synod is intended to "inspire people to dream about the Church we are called to be, to make people's hopes flourish, to stimulate trust, to bind up wounds, to weave new and deeper relationships, to learn from one another, to build bridges, to enlighten minds, warm hearts, and restore strength to our hands for our common mission."
         WE ARE INVITING YOU to come and share with us your personal thoughts and reflections on why you may have fallen away from practicing your faith, what pain or experience made you question your faith, what were or what are the joys of parish life that you'd want to re-experience once again and what are the obstacles that make it difficult to fulfill a parish life once again?
The Church wants to listen and hear what you have to say.
             During the Lenten Season of March, we will be offering "Focus Group" sessions whereas we are inviting our parish community of all ages, as well as an open invitation to our Attleboro Community to participate in one of our "Focus Group Sessions 
Please see our schedule below.
We also invite you to take the On-Line Survey which is below.
¿Que es el Sínodo de Sinodalidad?
          El Papa Francisco quiere escuchar de toda la Iglesia sobre lo que está sucediendo en las parroquias locales. Él, junto con el obispo Edgar da Cunha, obispo de Fall River, quisiera saber qué piensan las personas que deberíamos estar haciendo para ayudar a mejorar nuestras parroquias. La forma en que ha propuesto hacer esto es un proceso sinodal. SÍNODO significa "Caminando juntos" e implica escuchar al Espíritu Santo y escucharnos unos a otros para discernir el camino que estamos llamados a recorrer juntos.
          El SÍNODO está "destinado a inspirar a las personas a soñar con la Iglesia que estamos llamados a ser, a hacer florecer las esperanzas de las personas, a estimular la confianza, a curar heridas, a tejer relaciones nuevas y más profundas, a aprender unos de otros, a construir puentes, para iluminar las mentes, calentar los corazones y devolver la fuerza a nuestras manos para nuestra misión común".
           LO INVITAMOS a venir y compartir con nosotros sus pensamientos y reflexiones personales.
La Iglesia quiere escuchar y escuchar lo que tienes que decir.
Durante la temporada de Cuaresma de marzo, estaremos ofreciendo sesiones de "Grupos de enfoque" mientras invitamos a nuestra comunidad parroquial de todas las edades, así como una invitación abierta a nuestra comunidad de Attleboro para participar en una de nuestras "Sesiones de grupos de enfoque".
Por favor vea nuestro horario a continuación.
También lo invitamos a completar la encuesta en línea a continuación.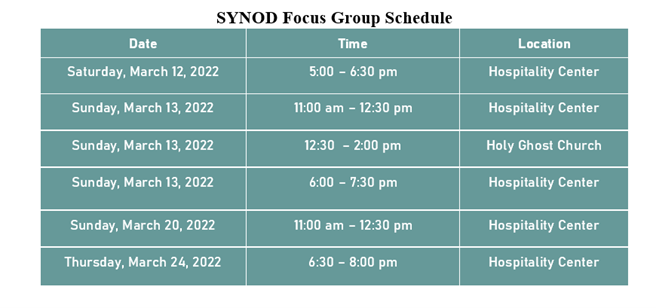 "You listen with only one purpose to help the person empty their hearts"
Please Take the Survey
Thank you!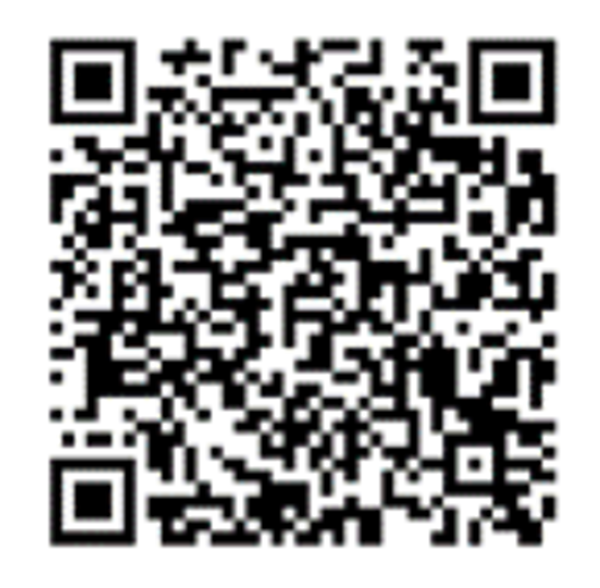 "Escuchas con un solo propósito: ayudar a la persona desahogar su corazón"
Por favor, Tome la Encuesta
¡Gracias!