As my Thanksgiving vacation comes to a close and I reflect on the many things that I did this past week, surprisingly the memory that sticks out to me is not one of Thanksgiving meals, card games, or spending time with friends and family. The most significant day for me was the first Sunday of Advent, which I honestly did not expect. Advent has never been a significant or meaningful time of the year for me. It seems to come and go without a second thought, and then before we know it, Christmas has arrived and we start moving towards the Spring with Lent and Easter. It might be because Advent is only a month long or it might be because the Christmas advertisements, decorating, and planning overtakes any real appreciation of Advent, but for one reason or another, I have never connected with this liturgical season in a deep or authentic way. It always seems to slip away from me, but this Sunday something changed.
         I had arrived at Church earlier than my family had and was sitting by myself praying before Mass began. The choir was practicing a few pieces and people were silently filling in the pews of the Church as the hour for Mass approached. Eventually, my own family arrived and sat next to me with some unexpected news: "You're bringing up the gifts with Aidan" (Aidan is one of my three brothers). Apparently as my family walked into Mass that morning, the ushers had asked them to bring up the gifts for Mass, but nobody, except Aidan, wanted to bring up the gifts for Mass. So, he volunteered me to bring up the gifts with him, which I had to reluctantly accept since the Mass pretty much started after they told me this. I was hoping for a Sunday Mass where I didn't have to do anything or make any announcements after Mass as I often do at St. John's. But, this whole event triggered a reflection throughout the rest of the Mass that began to break down my rocky heart.
          In the Mass, we offer the Lord bread that we would never serve at a dinner table with wine that is more akin to grape juice, and oftentimes this offering is an overlooked and underappreciated time of the Mass. I didn't even want to offer those things up, yet the Lord still called me to offer them to Him, to offer these meager things. And then, he takes these poor offerings, which would mean nothing to us in a normal context, and transforms them into His very own Body and Blood for us to consume and become a part of His Trinitarian Life. God, the Creator of the universe, becomes really present under the guise of the most lowly things this world could offer Him. I was absolutely floored when I began to reflect on this unequal exchange, if this can even be called an exchange!
       So, when I received the Eucharist, I remembered what I gave to Him and how He was giving His whole self to me in the Eucharist, and I began to weep. In receiving the Eucharist, I offer Him myself filled with brokenness and sin, and He fills up all the brokenness and sin with His own Loving Presence. And then I began to understand what Advent is truly about. Advent is a time of emptiness and pain; it is a reminder that we are incomplete without Jesus Christ. We struggle with sin, brokennes, and suffering all our lives, and sometimes it seems that there is no end to it all. Advent recognizes this darkness and points us to Christ who condescended to take on human flesh to free us from this suffering and to the Judgment Day when we shall hopefully be united to Christ forever in Heaven. Advent is permeated with hope, peace, joy, and waiting amidst a painful existence, and that is why Advent is one of my new favorite times of the year because it points me to my final home and unification with Christ. It points me to a time and place when all shall be well, where Love has finally conquered all sin and suffering in my own life. May we be blessed this Advent to offer our whole lives to God and receive the gift of His whole self in the Eucharist as preparation for our entrance into the Kingdom of Heaven. Amen.
"A Catholic cannot help but be happy; sadness should be banished from their souls. Suffering is not sadness, which is the worst disease. This disease is almost always caused by atheism, but the end for which we are created guides us along life's pathway, which may be strewn with thorns, but is not sad. It is happy even through suffering." 
Blessed Pier Giorgio Frassati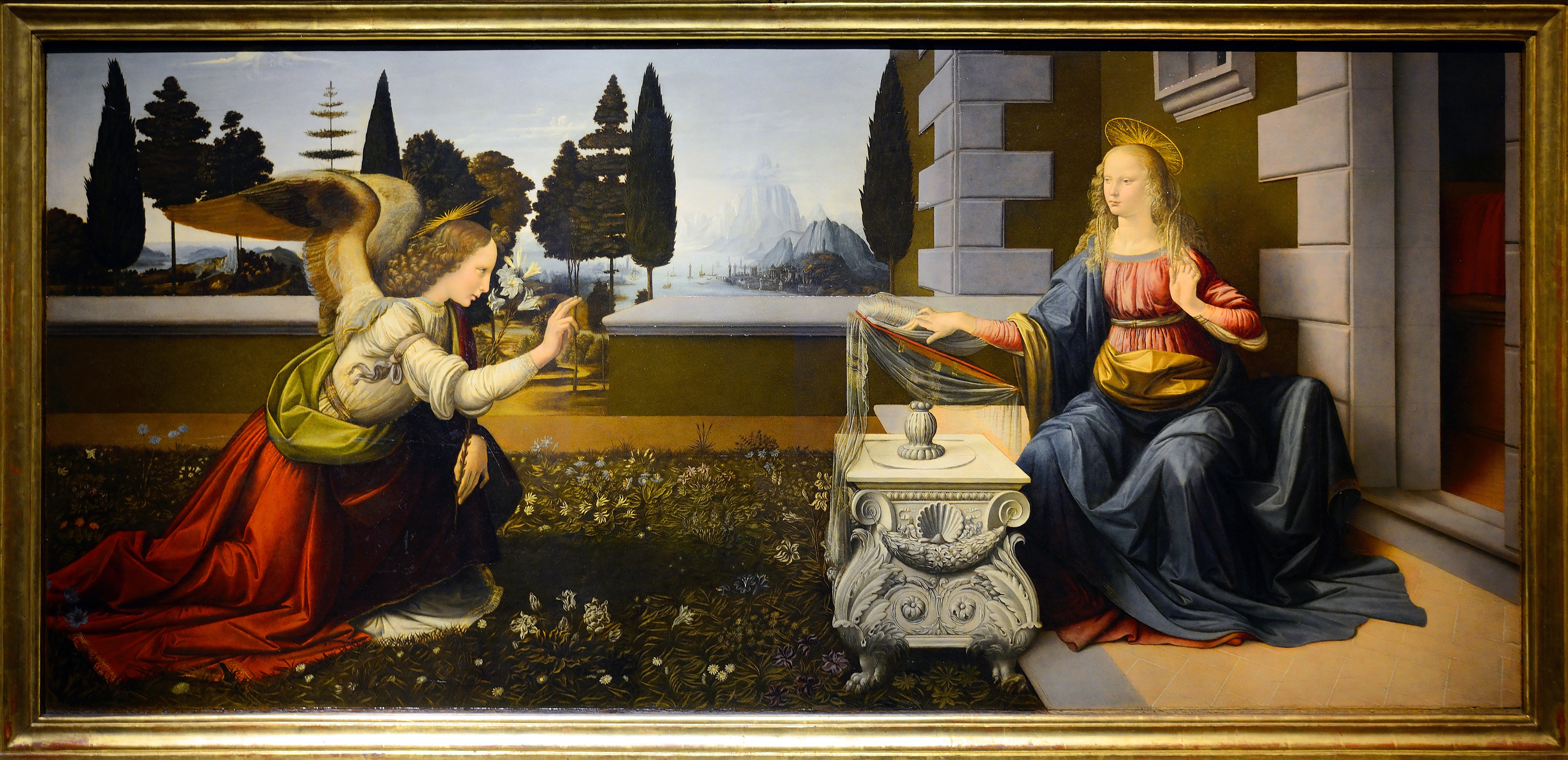 A picture of the Annunciation by Leonardo. One could say this is the first Eucharist in which God condescends to take on human flesh. An unequal exchange in which God gifts Himself to all of humanity in exchange for the assent of our free will. May we like Mary also say yes to the offer of God's great Love in the Eucharist.