In the 1st reading from this 5th Sunday of Easter, we are told of the continual evangelization efforts of Paul and Barnabas among the Gentiles, but interestingly enough, there is not much dialogue given to us amidst all the action. We are simply told about what they did in very direct language. We hear of the cities they traveled to, of the specific strategies they put into action in order to sustain and support the Christian communities, and of their return to Antioch with the reports of the work they had accomplished with God. There is only one line of real dialogue that we receive from Paul and Barnabas in this short excerpt of the Acts of the Apostles, and at first, it can seem a bit daunting. 
         As part of their evangelization efforts, Paul and Barnabas simultaneously try to found new Christian communities throughout the world and strengthen the ones which they have already established. This section of the Acts of the Apostles tells us specifically that Paul and Barnabas strengthen the disciples in the established community of Antioch by exhorting them with the following teaching: "It is necessary for us to undergo many hardships to enter the kingdom of God," (Acts 14:22). Then, they appoint elders, whom they commend to the Lord, to watch over the community and they leave to continue their mission of evangelization of the Good News of Jesus Christ to the rest of the world. It is hard to get around this exhortation or to qualify what Paul and Barnabas share with the disciples. They do not say that it is necessary for a short time to undergo many hardships to be a disciple of Christ, and neither do they say that we enter the kingdom of God after enduring one painful trial within our lives. They clearly state that "it is necessary for us to undergo many hardships to enter the kingdom of God" (Acts 14:22). 
          That can be a tough pill to swallow. The teaching acknowledges that hardships and trials are an inherent part of the Christian life primarily because hardships and trials are part of the fallen human condition we live in. We cannot avoid suffering at any point of our lives. But, I think the message they share is more than just an acknowledgement of the evils we suffer on a daily basis. Think also of the process of growth required in any journey towards a good we wish to acquire. If we want to run a marathon, we must go through months and months of hard trials and exercise to acclimate our bodies to the running conditions required to complete a marathon. If we want to get certified in a certain profession, we have to patiently study at a university in order to attain a degree, oftentimes work an internship or apprenticeship to gain experience, pass a test that proves we are qualified for the job, and then finally start our career. That process can take years. The journey towards becoming an authentic disciple in Christ takes real work, surrender, patience, space, and time just like many journeys we make towards something that is good. And this time of growth into discipleship brings along its own unique challenges and sufferings because in order to resurrect with Christ we must also die with Christ. This means we must let our assumptions of God disappear, we must let our sins die off slowly as we form virtues, and we must accept the mysteries of our faith that we can never fully grasp or understand before we reach Heaven. Add in the illnesses, the injustices, the violence, the conflicts, and the disagreements we face throughout our world and you have a plate full of hardships that can knock us flat on our butts. The journey can seem impossible, and on our own, the journey is certainly impossible.
         Without God, we can do nothing. We need His grace. And luckily for us, Jesus Christ took on all our sins and sufferings in His Passion and Crucifixion, and through Baptism we can unite our struggles and faults with Him. In turn, we find resurrection instead of death. We may die, injustice may prevail for the time being, we may suffer violence, we may be caught in conflict, and we may find insurmountable disagreements on foundational values with those we love, but Love has the final word. This does not mean that we should intentionally inflict evil upon ourselves or suffer injustices without defending ourselves - it means openly receiving the Lord's will for our lives, which often comes with challenges and sufferings that are not to our liking, as Paul and Barnabas pointed out to the disciples in Antioch. But, once we open our hearts to the Lord's will and root ourselves in His Love for us, we shall be able to endure any trial or suffering that this life can throw at us. Instead of corrupting or killing us, the suffering shall purify our hearts to be most loving and most empathetic with those who suffer along with us, and it shall deepen our Love for Jesus, who endures the whole world's suffering in His most sacred Passion so that we may have eternal joy in God. It's an exchange that is most wonderful and most confusing at the same time. For now, we march up to the hill of Calvary together until our crucifixion is ended, but once we reach the end of our journey, we shall find a resurrection that transforms all our suffering and trials into the most beautiful Life in Jesus Christ, a Life with a joy that we can only taste in this life. And if you look close enough, you can see that the resurrection light is already breaking through the lives of many faithful Christians in our world today bringing with it the eternal joy and happiness we all seek. Go to Jesus, and He shall never fail you. May we be strengthened amidst the trials and hardships of our lives to continue the hard work of surrendering our wills and our lives to the One who is most Good and most Loving. Amen.
1st reading from Last Sunday - Acts 14:21-27
After Paul and Barnabas had proclaimed the good news
to that city
and made a considerable number of disciples,
they returned to Lystra and to Iconium and to Antioch.
They strengthened the spirits of the disciples
and exhorted them to persevere in the faith, saying,
"It is necessary for us to undergo many hardships
to enter the kingdom of God."
They appointed elders for them in each church and,
with prayer and fasting, commended them to the Lord
in whom they had put their faith.
Then they traveled through Pisidia and reached Pamphylia.
After proclaiming the word at Perga they went down to Attalia.
From there they sailed to Antioch,
where they had been commended to the grace of God
for the work they had now accomplished.
And when they arrived, they called the church together
and reported what God had done with them
and how he had opened the door of faith to the Gentiles.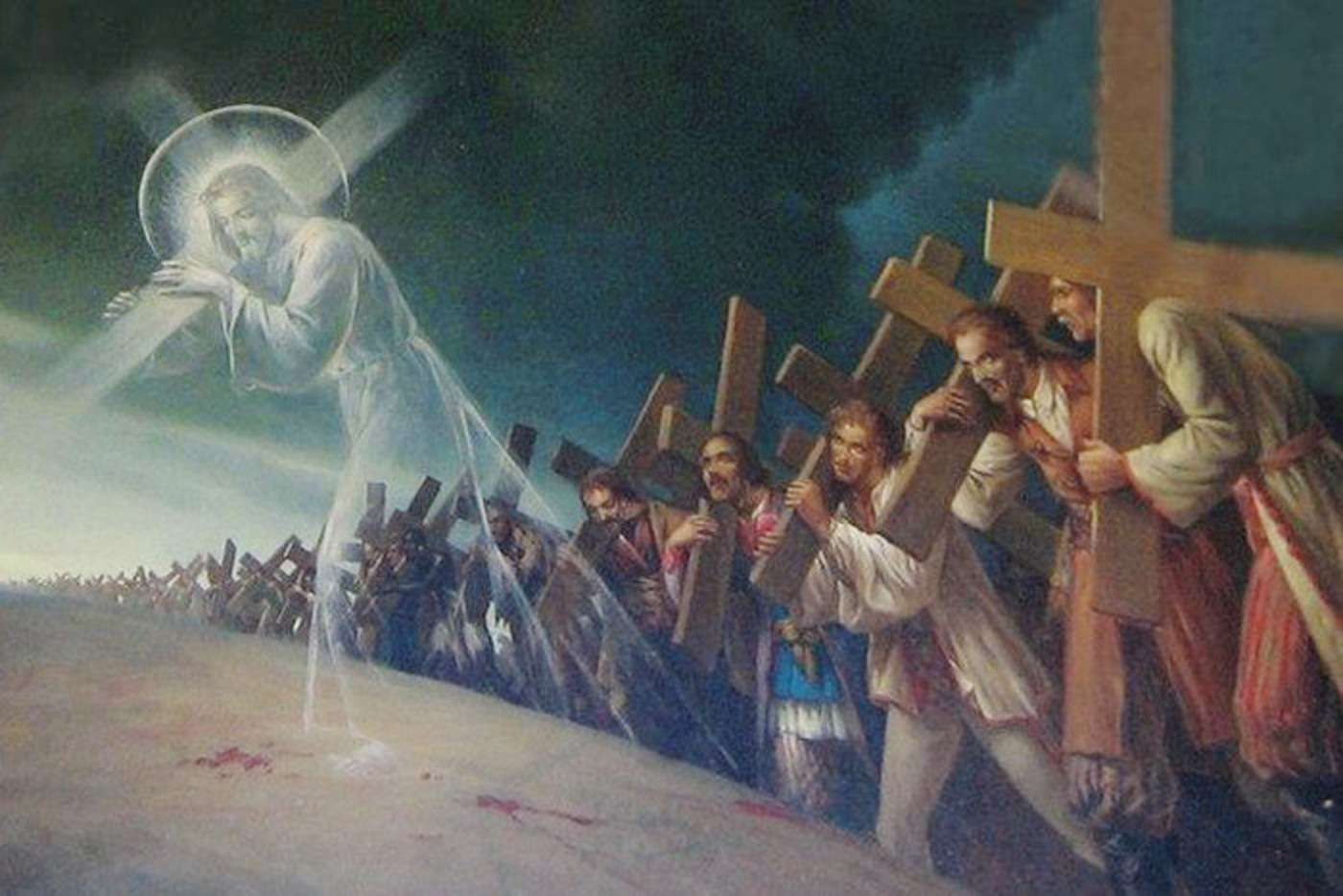 Jameson Labadie
This 16th day of May - Year of Our Lord 2022