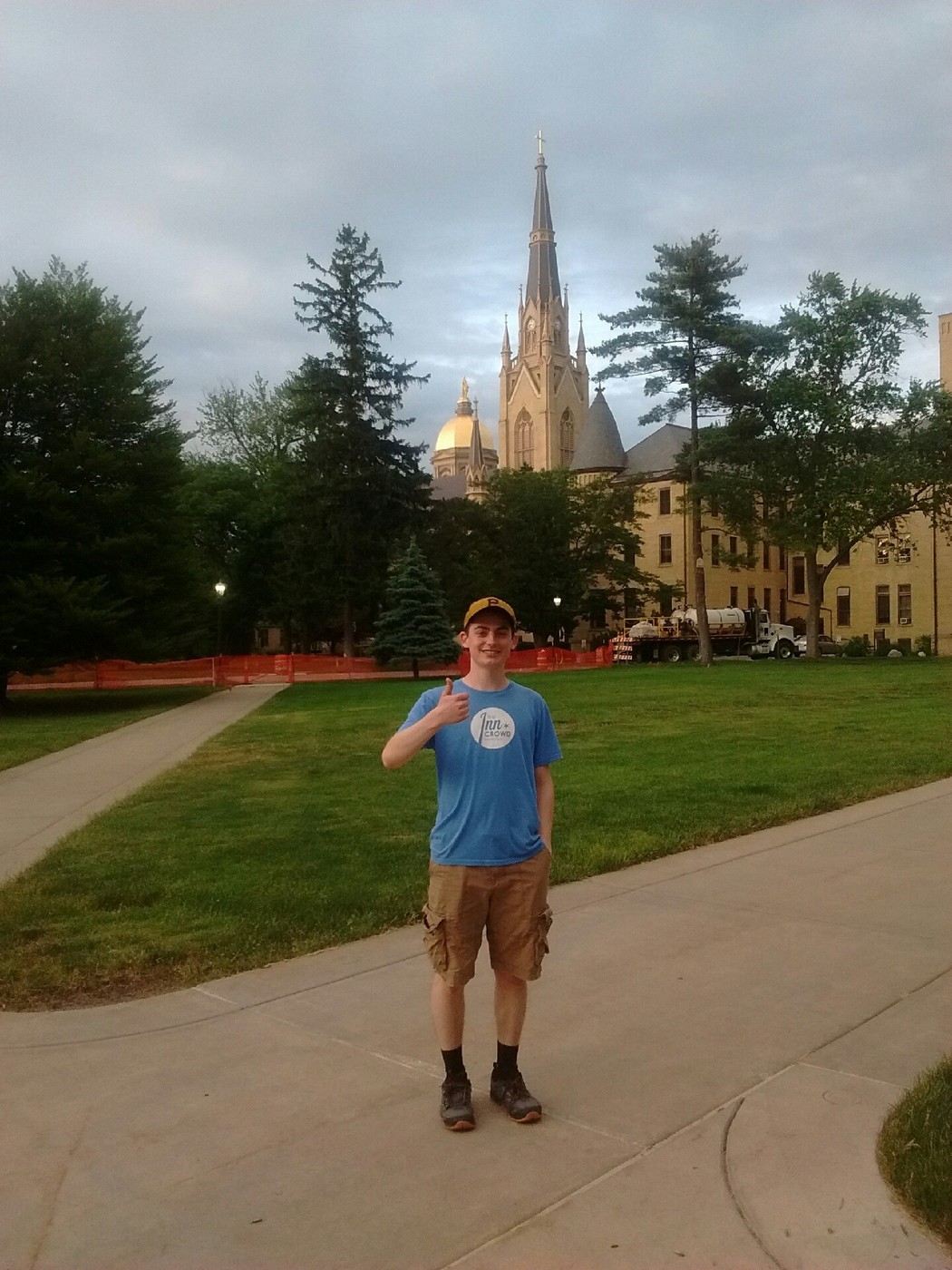 Hello! My name is Jameson Labadie, the new Echo apprentice who will be working with you all at Saint John's for the next two years! We've created this portal on the website as a way for me to stay connected with you all throughout my journey over the next 2 years. This first week I wanted to shortly introduce myself since I did not get a chance to be at all the masses this weekend due to Hurricane Henri.
           First, a bit about me before I tell you why I am here. As I told you earlier, my name is Jameson, but feel free to call me Jamis since this is what most of my friends call me (and you all are my friends!). I am from Nashville, TN, and I am the 2nd of 4 boys (so that makes me the peacekeeper!). I went to Notre Dame for the last 4 years and majored in Theology and Philosophy. While at Notre Dame, I sang in the Folk Choir, studied abroad in Chile, and played the cajón for a praise and worship band on campus. And I am now here with you all for the Echo program!
           The Echo program is a graduate program at the University of Notre Dame in which the student seeks to become "another Christ," a saint, incarnated in the local churches that we serve. It is a program that desires all its participants to reach the holiness to which they are called, specifically within the realm of working for the Catholic Church as lay ministers. As part of our formation and in addition to the work we do throughout the year, we get an M.A. in theology at Notre Dame, we live in community with other Echo students to challenge each other towards holiness, and we have many mentors walking with us as we try our best to glorify God with our lives. And we do all this in the span of 2 years! (Though, holiness is a lifelong journey that hopefully ends in the eternal bliss of Heaven.) If you have any questions about what Echo is or why I'm here in MA, I'll be coming to the masses next weekend to continually introduce myself and get to know you all better. That is, barring any other hurricanes coming through New England. Anyways, I am excited to be here for the next two years and I look forward to walking towards Heaven with you all 
             Also, before I sign off, I desire to thank all of you for the many gifts you have given to me in my first few days of working with this parish. I have received gift cards, a tour of the town with a complimentary Bliss meal, and many lovely conversations and greetings. Many people told me that New England has a much colder climate than Tennessee, but I have only found warmth and kindness in this parish. It is clear that the Father's Love is present in your hearts as you continually bless me with your many gifts. I hope that in my time working here I may pour back the Love that I have already received at this Parish. May we all be blessed to Love the Father in the Son by the Power of the Holy Spirit. Amen.
Jamis Labadie
Feast of Saint Rose of Lima
The 23rd day of August of the Year of St. Joseph 2021