My first week of work at Saint John's!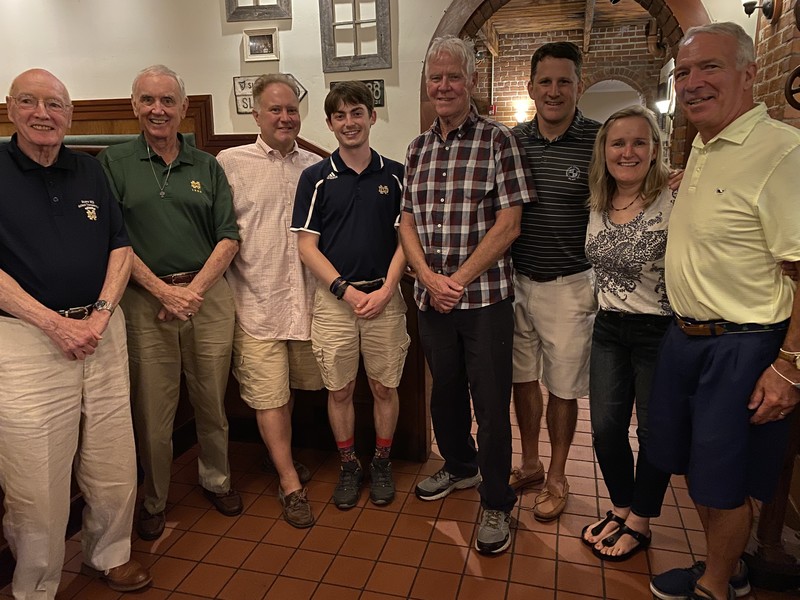 This last week was jam-packed with many blessings from the Lord, and all I can really say is "Thank you" for there is no way for me to pay back all these beautiful gifts I have been given throughout the week. This past Monday I had the lovely opportunity to dine with some of the Notre Dame graduates from Saint John's at Morin's. While much has changed at Notre Dame since they graduated from the university, Notre Dame enkindled in them a love for God and for their neighbor. This flame of love was clear to me in every conversation as they shared their lives and their experiences with me in conversation. There is no way to repay such kind words and actions, but I pray and hope that I have the opportunity to pour forth this same Love to Saint John's in my ministry. 
On the very same night, a parishioner reached out to our Notre Dame Echo community offering us 4 tickets to the Red Sox game against the Twins on Wednesday. We heartily said yes to such an amazing offer, and I got to go to my first Red Sox game in Fenway Park! And little did we know that these seats were on the first base line right next to the Red Sox dugout! We were utterly amazed at the seats we had, and we are grateful to these parishioners for the nice tickets they gave us. Even though the Red Sox ended up losing to the Twins in the 10th inning, it was a fantastic experience, and I once again had the joy of witnessing the generosity that is present within the heart of this Parish by way of these tickets.
This weekend I had the blessing to attend all of the Sunday masses in order to meet and greet many of you all. My visits included both Saint Vincent's and Saint John's, and it truly was a joy to encounter both communities and meet so many kind and caring souls. I hope that one day I will remember all of your names! Please be patient with me as I continue to learn your names for there are many new names that I have been trying to stick into my full brain recently. Also, I want to take this time again to thank all of you for the multitudinous gift cards and for all the conversations we have had together. I have very much enjoyed all the conversations and I give thanks to God that I have had the chance to meet such beautiful souls in God's Church.  
One important lesson I learned this weekend: New England loves sports, especially football. Shoutout to Jim and Vernia who revealed to me the truth behind the Brady drama that ensued a few years ago; I have now been enlightened!
There is only one thing I can say to the Father for all these beautiful blessings I have received: Thank you! And when I refer to the blessings I received, I do not simply mean the material things I have received. I am speaking of the Love that has been shown to me through these gifts for true blessing does not consist merely in material things but in the Merciful Love that the Father gives to us in and through everything. Thank you for reminding me of God's great Love for me; I hope to bless you all with this same Love in my continued work here! May we be blessed to give thanks to the Father more and more every day for the gift of His Son in the Eucharist. Amen.
Jamis Labadie
Feast of Saint Pammachius
The 30th day of August of the Year of Saint Joseph 2021