How Life Can Be Filled with Light, Even in the Darkest Moments
            The summer after my Senior Year in high school my father and I traveled to Spain to walk 300 miles of the Camino de Santiago, an ancient pilgrimage across Northern Spain that ends at the burial site of the apostle St. James the Great in the town of Santiago de Compostela. It was a big trip for both my father and I. Neither of us had ever embarked on such a long hiking trip, and we had certainly never lived so simply. All we brought along for the journey were two pairs of clothes each, toiletries, two water bottles each to fill at every town, rain jackets, our passports, our wallets, journals, a guidebook, a pack of cards, some walking sticks (bought along the way of the journey and left at the end for the next pilgrim), and various religious articles (like rosaries) and sentimental items. I do not believe I have ever been able to count the things I own on a trip like that before, and I have not been able to do so since then. 
              On our first day of the trip, we arrived at the starting point of the Camino in St. Jean-Pied-de-Port in Southern France a day before the beginning of our journey, so we had time to walk through the town, get some grub, buy a few more things for the trip (like the walking sticks and the cards!), and pray in the beautiful town Church. As we sat down in the Church, I brought out my journal to begin writing, and the front of the journal said "Enjoy the Journey." It felt like God was speaking directly to me through that journal cover. Both my dad and I were filled with anxieties, excitements, hopes, and worries as we embarked on our adventure in Spain, and God was reminding me that He was with us (that He is always with us) in every moment of our lives. So there was no need to worry for God would provide for us in every moment of the trip.
            But, that didn't mean that the journey was always delightful and easy. There were days where we walked in the pouring rain for several hours, days where the blistering sun reminded me of how pale I was, days where I missed my family and friends on the 3 week journey, and days where I was not in a good mood for one reason or another. As my dad once said, we did everything we could to protect ourselves physically on the journey, but we forgot how vulnerable and fragile our hearts were. All that is to say that I did not enjoy some days of the journey, and when we came to the end of our pilgrimage, I felt like I had failed God because I didn't enjoy the journey as I thought I should have. It has been 4 years since I ended that pilgrimage, and the truths and the lessons I learned on that journey are still unfolding in my life as I grow older and older every day. And I think I now realize what the Lord was telling me when He invited me to "enjoy the journey."
            Because of sin and evil in the world, life is strewn with much suffering and many crosses to bear; it is a reality that we must come to terms with every day of our lives. I realized then that the Lord was not telling me to enjoy the journey as if all of life is sunshine and rainbows if I only look at it the right way. He was telling me to fill it with joy, to en-joy the pilgrimage of earthly life towards Heaven if you will. Joy for me, then, is not an emotion that we feel or strive for but rather a disposition towards life. It is a disposition that acknowledges the deep sorrows of the human condition while also recognizing and trusting in the Victory of Christ's Death, Resurrection, and Ascension. It takes our own suffering and offers it to God knowing that He redeems and renews all things with His Love. Hence, to enjoy our journey is not to only focus on the so-called "good parts" of life. It is to let the Love of God permeate our entire lives and to keep our eyes on Heaven. 
           Now whenever I am suffering or going through a significant challenge in my life, I look towards God and remember that He can take every single one of these things and turn them for my own good. I remember that He wants to transform all the suffering for my own good and eternal happiness! May we be given the grace to take all our suffering and struggles to the Cross of Jesus and trust that He will bring us closer to His own Love in all these challenges until we are one day united with Him in Heaven. Enjoy the journey.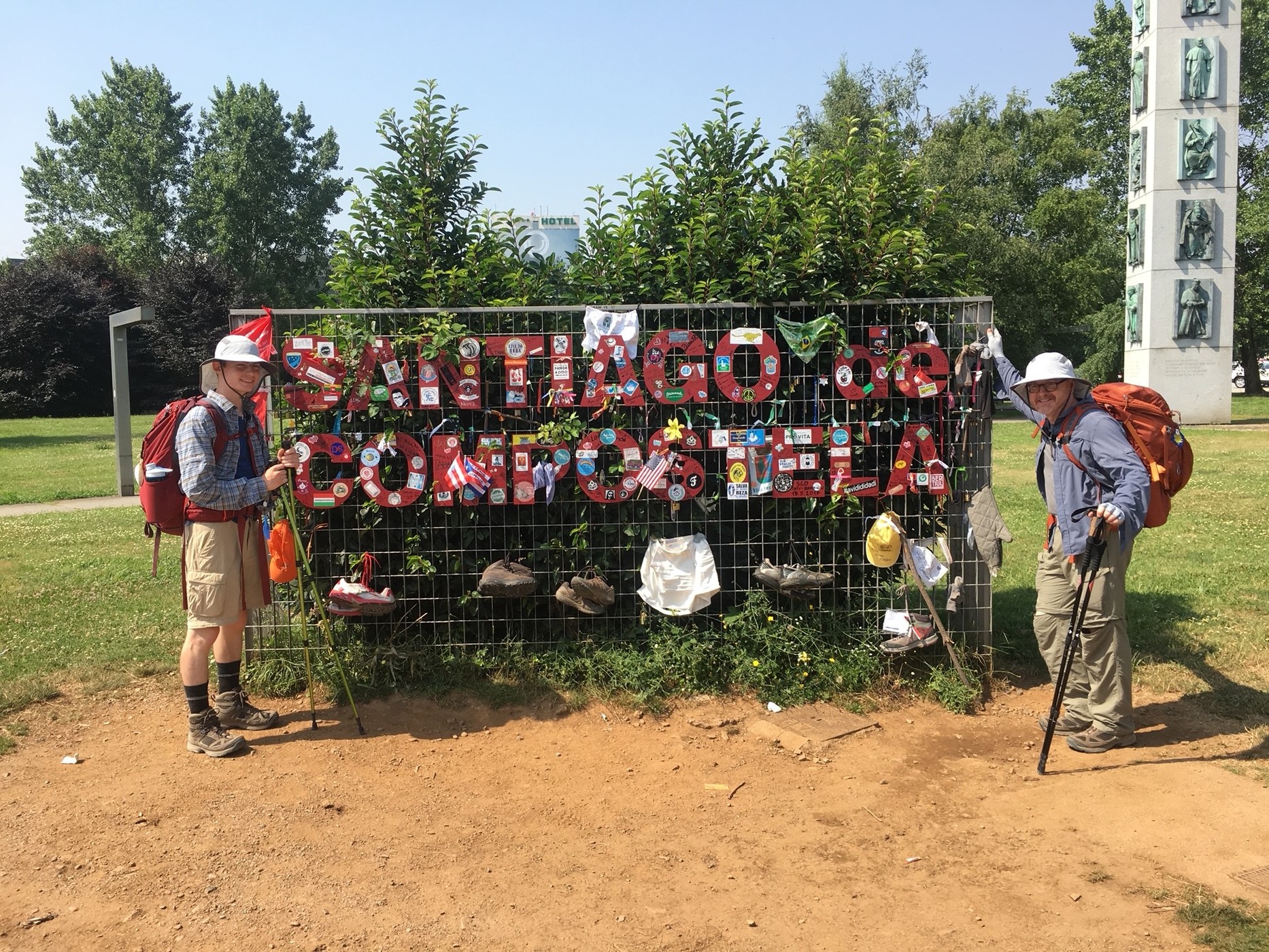 My Father and I at the end of the Camino in Santiago de Compostela
Jamis Labadie
This Tuesday of the 3rd week of Advent - Year of our Lord 2021
Feast of Saint John of the Cross