How We Become Holy Through the Fire of God's Love
                   In this last Sunday's 1st reading, we had the blessing to hear Moses' first encounter with the Lord in the Book of Exodus. At this point of Moses' story, he has run away from Egypt after killing an Egyptian who was torturing a Hebrew slave and has been working as a shepherd for the flocks of his father-in-law Jethro around the wilderness surrounding Mount Horeb. As he is tending the flock one day, he encounters a bush that is on fire without being consumed. Naturally, he approaches the bush in wonder as to how it is not being consumed and hears the voice of the Lord call out to Him. And the first thing that the Lord declares to Moses is simply Moses' own name - the Lord calls out to Moses to bring him closer to Himself. And in this encounter, the Lord communicates His very self to Moses by revealing His name: "I am who am" (Exodus 3:14). For us, the sharing of our names is a simple transaction that happens on a daily basis, but in the ancient world, the sharing of a name was the communication of our very being. So, for a god to share his or her name in the ancient world meant that those who knew the name had a certain power over the god and a certain intimacy with the god. God heard the plea of the suffering Israelites in Egypt, and His response was to share His very Being with Israel to show that He was suffering with them and that He would deliver them from the hands of the Egyptians. He gave them the power over Himself to call for deliverance from the Egyptians because He made a covenant with Abraham, Isaac, and Jacob to grow Israel into a flourishing kingdom with its own people and an abundant land "flowing with milk and honey" (Exodus 3:8). Not only is this a beautiful story of God's revelation of Himself to humanity, but it is also a story that is close to my own heart.
                  On my way up to Massachusetts in August right before I started working for St. John the Evangelist Parish, I visited my younger brother, Aidan, in his apartment in Washington D.C. on the campus of George Washington University. While I was visiting him, I saw a painting on his wall that he made over the summer of 2021. It clearly had the Face of Christ on it, but it was strange because it was only the Face of Christ surrounded by some brown lines, green dots, red flames, and Hebrew letters on the bottom. Aidan said that none of his friends understood what he made until he explained it to them, so I naturally took on the challenge of trying to guess what it was. After a few minutes of discussion and guessing, I figured out that Aidan drew a depiction of the Burning Bush from Exodus 3. The Face of Christ represents the face of our God who has suffered with us through all our sin and struggles from the beginning of time. Christ is the perfect image of our God who loves us so much that He takes on all our suffering that we may be One with Him. He takes on our sin so that we may be freed from it through Christ Himself. The Hebrew writing on the bottom of the picture was Yahweh - the Hebrew name of the Lord that is given to Moses in the story of the Burning Bush that translates to "I am who am". 
               Aidan was quite excited that I understood the picture after examining it for a time, and I was excited that he saw the Burning Bush in a way that I understood it. During my final semester of Senior Year at Notre Dame, I took a class called "Seeing God" in which we reflected on what it meant to see the Face of God in both Sacred Scripture and Philosophy. My favorite section of the class was the part in which we examined saints as images of Christ that allowed us to see the Face of God through their lives of sacrificial Love. But, during our conversations in class, a problem arose for holiness. To be holy, does God consume us completely within Himself or is there some sort of way in which our imperfections are exalted by God's grace while not destroying our very being? Basically, is there any of ourselves left when we become holy and unite ourselves to God ultimately in Heaven? And it was here where the Burning Bush became an important image of holiness for me. The Burning Bush serves as an image of Christ and all the saints who imitate Christ with their lives. God's grace fully embraces us as does the fire around the bush in Exodus 3, but His fire of Love does not destroy us. Our imperfections and personalities remain intact as the Lord's fire consumes us without destroying our very being. His fire instead exalts us and attracts others towards us, and we become instruments of God's Love and Mercy to all those we encounter. They find the Face of the Suffering Christ within us and see that they too are called to unite their sufferings with Jesus' suffering on the Cross on Calvary. 
                 Just as Moses marveled at the Burning Bush, we too marvel at the lives of the saints who shine before us in all their imperfections and struggles. We look at Mother Teresa and wonder how she was able to serve the poor in the utter dejection and darkness she felt within her prayer life. We look at St. Joan of Arc and wonder how she was able to win battles and drive out the English from much of France without any military or physical training. We look at Mary and wonder how she was able to say yes to the Lord's will when that included the terrible suffering and crucifixion of her dearly beloved Son. All the saints shine before us because the Lord's grace made it possible for them to love, to pray, to serve, to battle, to surrender in ways that are impossible by our own powers alone. He takes us and raises our love to a level that is Divine, and this is the life that all Christians are called to. This is why Christ calls us "the light of the world" who must shine for all the world to see so that they may see our good works and glorify the Father with us (Matthew 5:13-16). He is the Light of the world, and though the world rejected him, we can let His Light shine in us so that others may see the Lord and Live. May we have the grace to let the Lord's Light shine in our lives so that others may find freedom in His Love through our words and actions. Amen.
1st Reading from Last Sunday - Exodus 3:1-8a, 13-15
Moses was tending the flock of his father-in-law Jethro,
the priest of Midian.
Leading the flock across the desert, he came to Horeb,
the mountain of God.
There an angel of the LORD appeared to Moses in fire
flaming out of a bush.
As he looked on, he was surprised to see that the bush,
though on fire, was not consumed.
So Moses decided,
"I must go over to look at this remarkable sight,
and see why the bush is not burned."
When the LORD saw him coming over to look at it more closely,
God called out to him from the bush, "Moses! Moses!"
He answered, "Here I am."
God said, "Come no nearer!
Remove the sandals from your feet,
for the place where you stand is holy ground.
I am the God of your fathers, " he continued,
"the God of Abraham, the God of Isaac, the God of Jacob."
Moses hid his face, for he was afraid to look at God.
But the LORD said,
"I have witnessed the affliction of my people in Egypt
and have heard their cry of complaint against their slave drivers,
so I know well what they are suffering.
Therefore I have come down to rescue them
from the hands of the Egyptians
and lead them out of that land into a good and spacious land,
a land flowing with milk and honey."
Moses said to God, "But when I go to the Israelites
and say to them, 'The God of your fathers has sent me to you,'
if they ask me, 'What is his name?' what am I to tell them?"
God replied, "I am who am."
Then he added, "This is what you shall tell the Israelites:
I AM sent me to you."
God spoke further to Moses, "Thus shall you say to the Israelites:
The LORD, the God of your fathers,
the God of Abraham, the God of Isaac, the God of Jacob,
has sent me to you.
"This is my name forever;
thus am I to be remembered through all generations."
Jameson Labadie
This 21st day of March - Year of Our Lord 2022
Feast of St. Benedicta Cambiagio Frassinello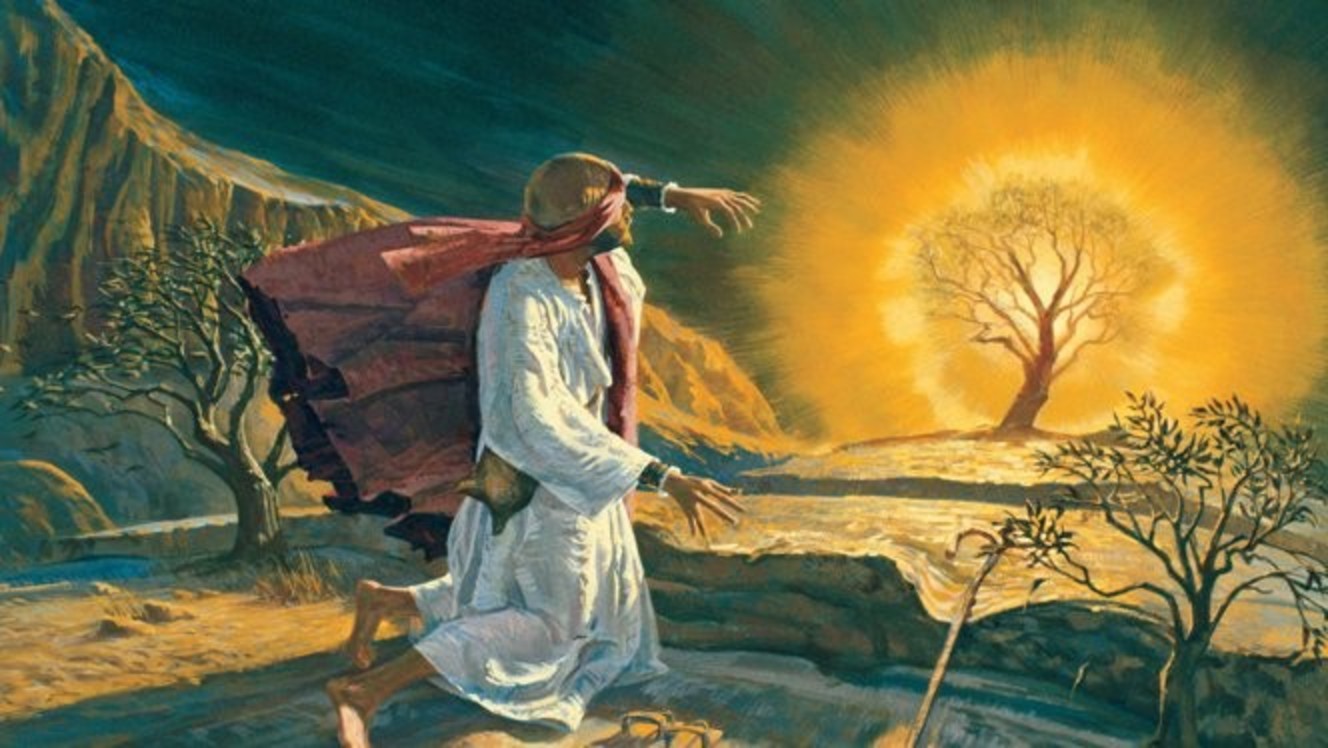 Moses encountering the Burning Bush