Blessed are they who trust in the Lord
Jeremiah's Advice on Suffering
    We all recognize that there are many blessings and gifts that we receive in this life, and we often give thanks to God for these blessings. Amidst many things, we thank Him for our family, our friends, our homes, the Patriots, etc. But, what happens when those blessings seem to disappear? Does this mean that God's Love for us has weakened? Is God punishing us for sinning or doing something wrong? These and many other questions can flood our minds when life seems more accursed than blessed. We can be left scrambling and searching for what to do in response to tragedy, illness, or suffering in our own lives, and it can certainly seem that God does not Love us in those moments. What is the proper response to these struggles in our lives? It is here where the 1st reading from last Sunday can give us an insight into our situation.
   In the 1st reading, Jeremiah distinguishes between two postures that we can take towards life. The first posture is one in which we trust in creation more than we trust in God. By placing our security in money, power, other human beings, etc., we find ourselves withered in times of drought with no happiness or rest to be found. Yes, we must be prudent and wise in our dealings with earthly things, but if we think that balancing our checkbook or being respected in the eyes of others will bring us peace, then we will certainly wither up when hard times come our way. The second posture is one in which we trust God more than we trust in creation. Jeremiah describes this person as a tree planted near running streams - as one who always bears fruit even in the times of drought and disaster. The saint is not the one who yearns always for the time of earthly abundance but the one who says to the Lord in every situation "Blessed be God forever!"
    So, the proper response to times of difficulty and distress is one of return to the Lord. It is a time that reminds us that the only real and permanent foundation in our life is the Lord. In Him alone lies our true happiness. In Him alone are we able to flourish and become our full and beautiful selves. While we do our best to heal, to flourish, and to improve the situation in our own lives, we must put our complete trust in God and surrender our lives to Him. This is the way to peace, and though this peace may not always give us the immediate satisfaction or relief we seek, it is an everlasting peace that abides with us unto eternal life. As G.K. Chesterton said, the atheist is one who experiences many small joys but an eternal sadness whereas the Christian is the one who experiences many small pains but an eternal joy.
    Know that the Lord sees your pain and feels the pain with you. When Christ was crucified on the cross, He took on all our sin and suffering so that in our moments of sin and suffering He could walk with us and redeem us. Our God is the God of Long-Suffering - the one who walks with us in every moment of pain so that we may bear fruit of joy and peace. If you are going through a difficult time or are suffering at this moment, I encourage you to meditate on the Death and Resurrection of our Lord and to recognize that He is choosing to suffer with you in every moment. And remember what Jeremiah says, "Blessed is the one who trusts in the Lord, whose hope is the LORD," for in the year of drought, he or she will still bear much fruit (Jer 17:7). May we receive the grace to trust in the Lord in all seasons of our life and to see His deep Love and compassion for our suffering. Amen.
Here is the full reading from Last Sunday:
Thus says the LORD:
            Cursed is the one who trusts in human beings,
                        who seeks his strength in flesh,
                        whose heart turns away from the LORD.
            He is like a barren bush in the desert
                        that enjoys no change of season,
            but stands in a lava waste,
                        a salt and empty earth.
            Blessed is the one who trusts in the LORD,
                        whose hope is the LORD.
            He is like a tree planted beside the waters
                        that stretches out its roots to the stream:
            it fears not the heat when it comes;
                        its leaves stay green;
            in the year of drought it shows no distress,
                        but still bears fruit.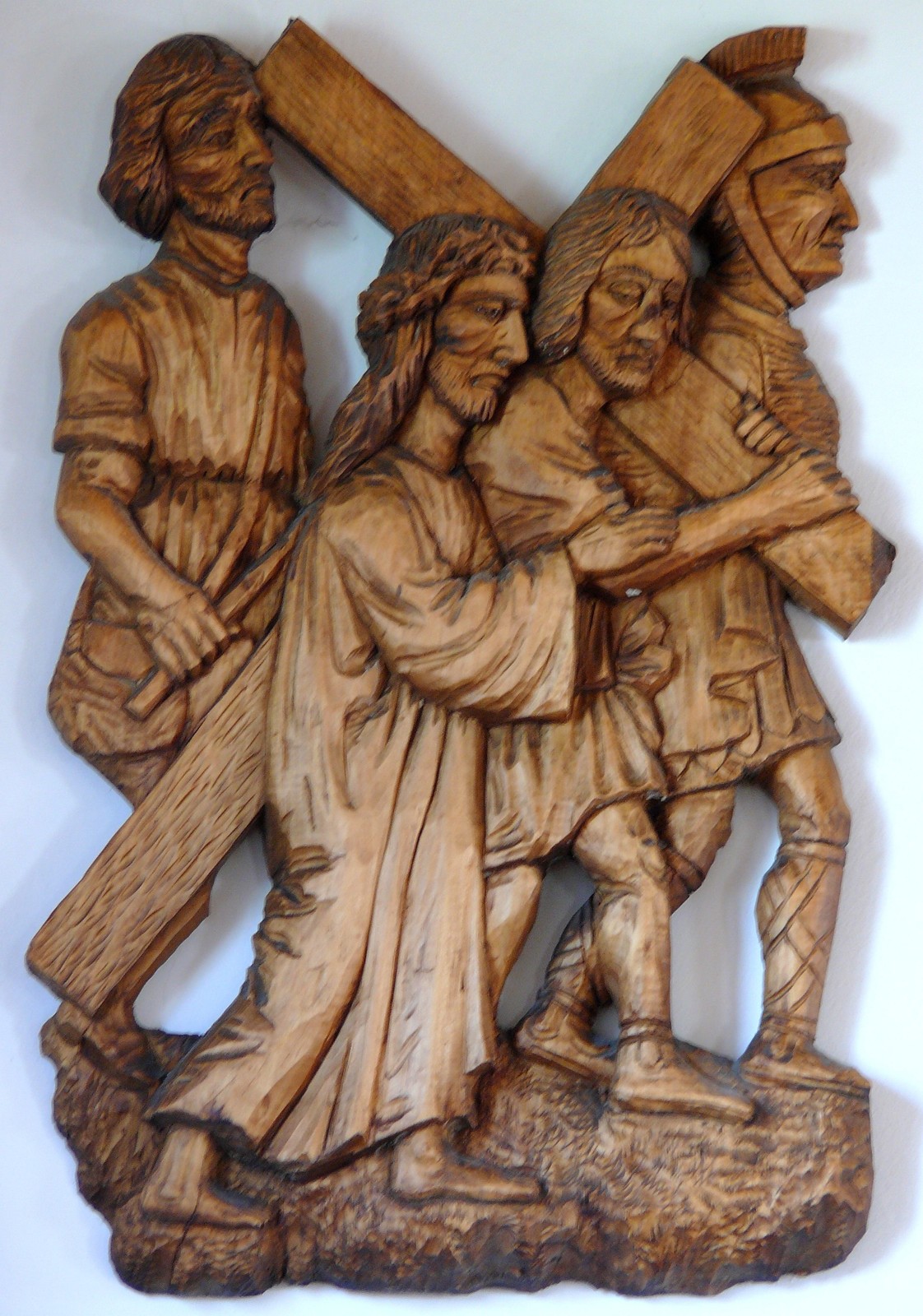 The Fifth Station: Simon of Cyrene Carries the Cross with Jesus
Jameson Labadie
This 14th day of February - Year of Our Lord 2022
Feast of Sts. Cyril and Methodius